Dolphins Belong In the Wild, Not a Tank
A pod of wild dolphins can travel up to 100 kilometers a day in the open ocean. Family members teach each other skills to survive in the wild and frequently remain together for life. Dolphins are known to have signature whistles much like how humans have names, and social communication and interaction among the pod is a key component of their daily lives. These mammals have perfectly evolved to thrive in the ocean, where they deserve to live freely. Captivity simply cannot provide an adequate environment for these wild species.
Life In Captivity
Dolphins living in captive conditions face circumstances vastly different than those of the ocean. The surroundings are bare and sterile, with little mental stimulation or diversion. Many captive dolphins are regularly treated with ulcer medication or antidepressant medication to alleviate the frustration of captivity.
Physical Detriments of Captivity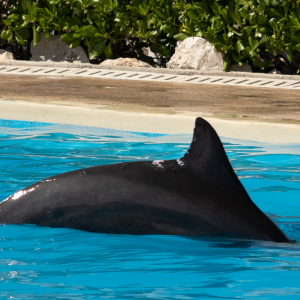 Because tanks lack the depth or size of the open ocean, captive dolphins experience a range conditions not commonly seen in their wild counterparts.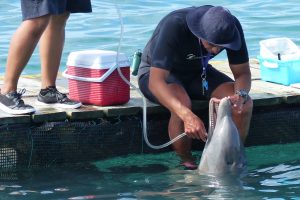 A Lifetime of Training
Wild-captured dolphins must endure significant training to adapt to captivity. They must learn to accept a new diet of dead fish, as well as to undergo a variety of invasive operations, such as tube-feeding and medical examinations.
Even captive-born dolphins must become accustomed to the human interactions required of them. This is accomplished, without exception, through food deprivation training. Labeled as "positive reinforcement" or "operant conditioning", dolphins are kept hungry enough so that they will comply with instructions from trainers, whether to learn new behaviors or to execute them during a performance or tourist encounter.
What Else To Know About Captive Entertainment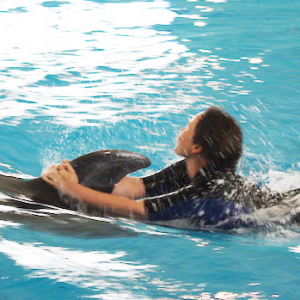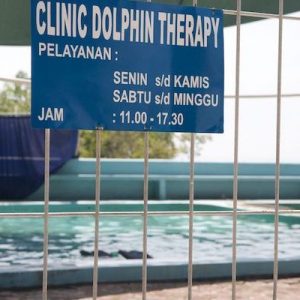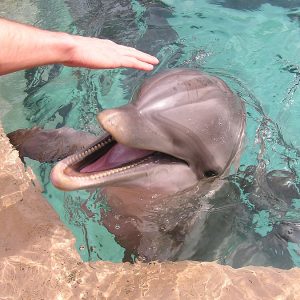 HOW YOU CAN HELP PROTECT DOLPHINS
Understanding the intelligence and complexity of these species, as well as how they behave in the wild helps us understand that their natural ranges in the open ocean are where they thrive. It is vital that we continue to spread awareness about dolphins to help end exploitation in captivity, and to help wild dolphin populations stay healthy!
Join the pod and take the pledge to NOT buy a ticket to dolphins captive facilities!
Sign petitions, contact authorities and take action to help protect dolphins.
Education is the first step to moving others to take action. Help spread the word about protecting dolphins!
Explore giving options to help support our mission to protect dolphins from exploitation and slaughter.
Ric O'Barry's Dolphin Project is registered as a 501(c)(3) non-profit organization, and all donations are tax-deductible as authorized by law.
© 2022 Ric O'Barry's Dolphin Project. All Rights Reserved.
171 Pier Ave. #234
Santa Monica, CA 90405
https://www.dolphinproject.com/campaigns/captivity-industry/facts-about-captivity/