Anders Hagstrom
President Biden issued an official proclamation declaring that transgender Americans "shape our nation's soul" and established a holiday relating to the group this week.
Biden issued the proclamation Thursday to mark March 31, 2023, as the Transgender Day of Visibility, a day some transgender activists have renamed to "day of vengeance."
"Transgender Americans shape our Nation's soul — proudly serving in the military, curing deadly diseases, holding elected office, running thriving businesses, fighting for justice, raising families, and much more," Biden wrote in the Thursday morning proclamation.
"Today, too many transgender Americans are still denied…rights and freedoms," the president's statement continued. "A wave of discriminatory state laws is targeting transgender youth, terrifying families and hurting kids who are not hurting anyone. An epidemic of violence against transgender women and girls, in particular women and girls of color, has taken lives far too soon."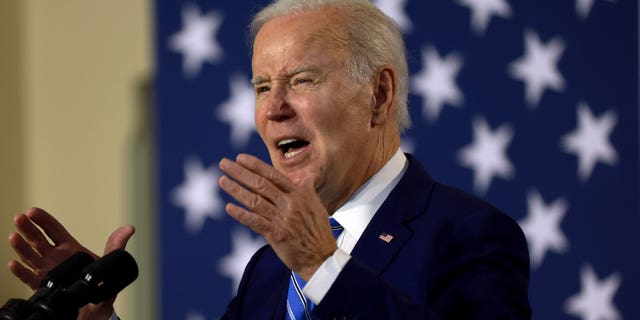 President Biden issued a proclamation declaring March 31, 2023 to be the Transgender Day of Visibility. (Joe Raedle/Getty Images)
Biden's statement went on to tout what he outlined as his administration's efforts in supporting the American transgender community. The president also pointed to his decision to allow transgender people to serve in the military once again, as well as his efforts to include what he described as "gender markers" on U.S. passports.
Several states, including West Virginia and most recently Kentucky, have joined together with nine other states in banning or restricting transgender surgeries and other care for minors — something Biden and his administration have attacked as being discriminatory and cruel.
Federal judges have blocked related laws in states including Alabama and Arkansas from taking effect, and nearly two dozen other states are said to be considering bills this year that would restrict or ban transgender medical treatments.
Fox News' Chris Pandolfo contributed to this report.
Anders Hagstrom is a reporter with Fox News Digital covering national politics and major breaking news events. Send tips to Anders.Hagstrom@Fox.com, or on Twitter: @Hagstrom_Anders.
https://www.foxnews.com/politics/biden-transgender-people-shape-nations-soul-official-proclamation