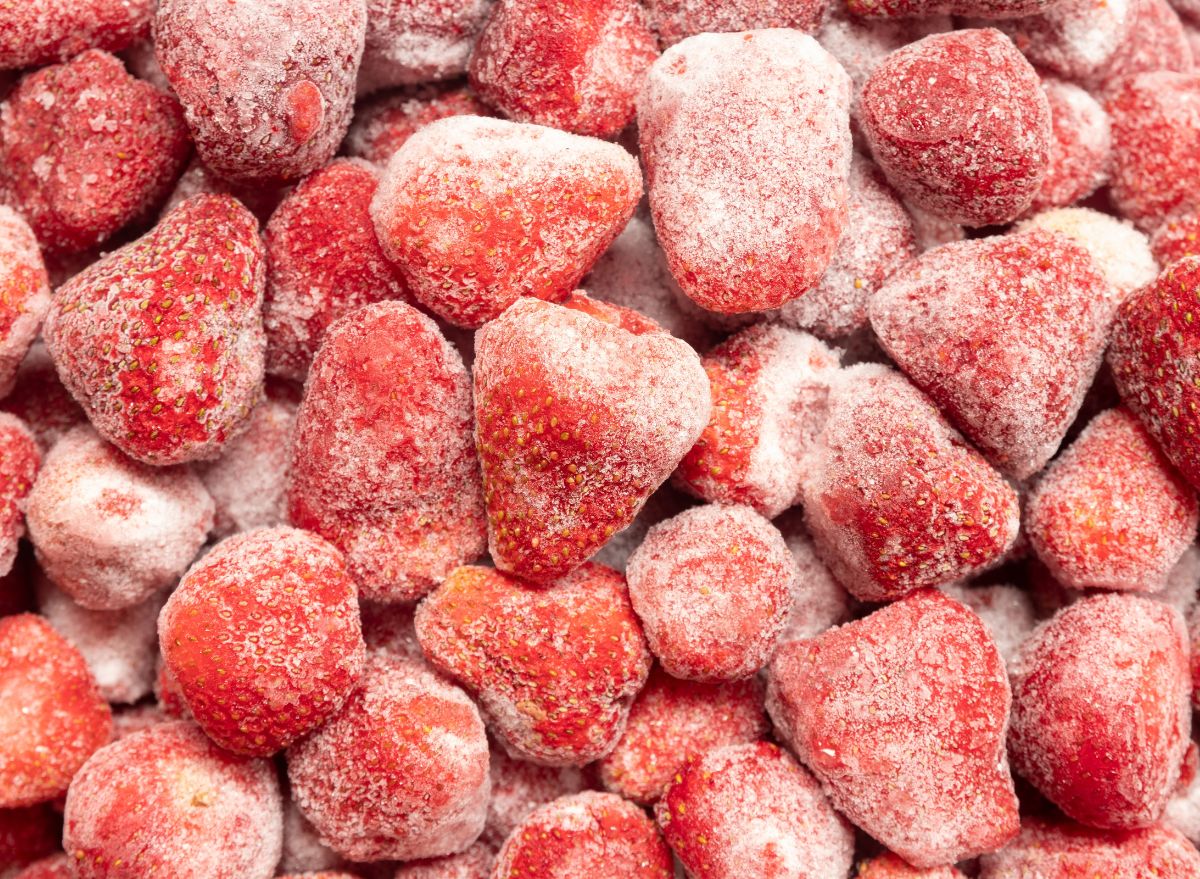 Vitawin / Shutterstock
Customers who purchased the affected products are encouraged to avoid consuming them.
The list of grocery items that customers should stay away from right now just keeps getting longer. Coming on the heels of a Walmart supplier's decision this week to pull potentially contaminated yogurt bars from shelves, Trader Joe's and Costco shoppers are now being advised of health concerns over certain frozen fruits sold by these retailers, too.
Trader Joe's announced today that its Organic Tropical Fruit Blend may have been contaminated with hepatitis A. The company is recalling packages of the product with the "Best By" dates of 4/25/24, 5/12/24, 5/23/24, 5/30/24, and 6/07/24.
Trader Joe's said that it hasn't received reports of any illnesses yet and has already destroyed all of the products that were potentially contaminated. Still, it urged any customers who purchased the frozen fruit blend to refrain from consuming it and either discard the product or return it to a store for a full refund.
RELATED: 14 Major Food Recalls You Need To Know About Right Now
As for Costco, customers in two states are advised to be wary of the warehouse club's house brand Kirkland Signature Frozen Organic Strawberries. The club's supplier, California Splendor, Inc., is recalling certain lots of the frozen fruit "due to an outbreak of hepatitis A illnesses," according to an announcement posted by the Food and Drug Administration (FDA).
Luckily for most Costco customers, the recall only applies to 4-lb. bags of the frozen strawberries sold at warehouses in Los Angeles, Hawaii, and two San Diego-area business centers.
The announcement said that hepatitis A actually hasn't been detected on the product, but out of an abundance of caution, it urged customers against eating the frozen fruit and directed them to return any packages to their local Costco for a refund. The company has halted production and distribution of the affected product and is working alongside the FDA to find the cause of the problem.
Customers can determine whether they purchased any of the recalled frozen strawberries by checking the lot number located above the "Best If Used By" date on the back of the package. If customers encounter any of the 13 lot numbers listed in the recall announcement, such as 140962-08, that means it is part of one of the potentially affected lots.
Hepatitis A is a contagious liver infection caused by the hepatitis A virus, according to the Centers for Disease Control and Prevention (CDC). Symptoms of the illness can last up to two months and include fatigue, nausea, stomach pain, and jaundice.
But getting vaccinated for hepatitis A within two weeks of exposure can actually prevent illness. The recall announcement encouraged anyone who may have consumed contaminated food to speak with a healthcare professional or local health department to determine if they may need a vaccine. It also urged anyone experiencing hepatitis A symptoms to immediately reach out to their health care providers or local health departments.
Costco's and Trader Joe's frozen fruit aren't the only products that have sparked a recall this month. In fact, Trader Joe's has issued two other recalls since the start of March for certain lots of its Wine Country White Chicken Salad with Cranberries & Pecans and Lemon Chicken & Arugula Salad. Customers can find more information on these and any other recalls on the retailer's website.
Zoe Strozewski
https://www.eatthis.com/costco-trader-joes-frozen-fruit-recall-2023/?utm_source=nsltr&utm_medium=email&utm_content=store-chicken-in-freezer&utm_campaign=etntNewsletter