Special diet: gluten-free, nut-free, soy-free, vegan
Loaded with tomatoes, cucumber, sweet onion, and basil, this Mediterranean vegan corn salad is a celebration of summer produce. It's easy to make in under 30 minutes.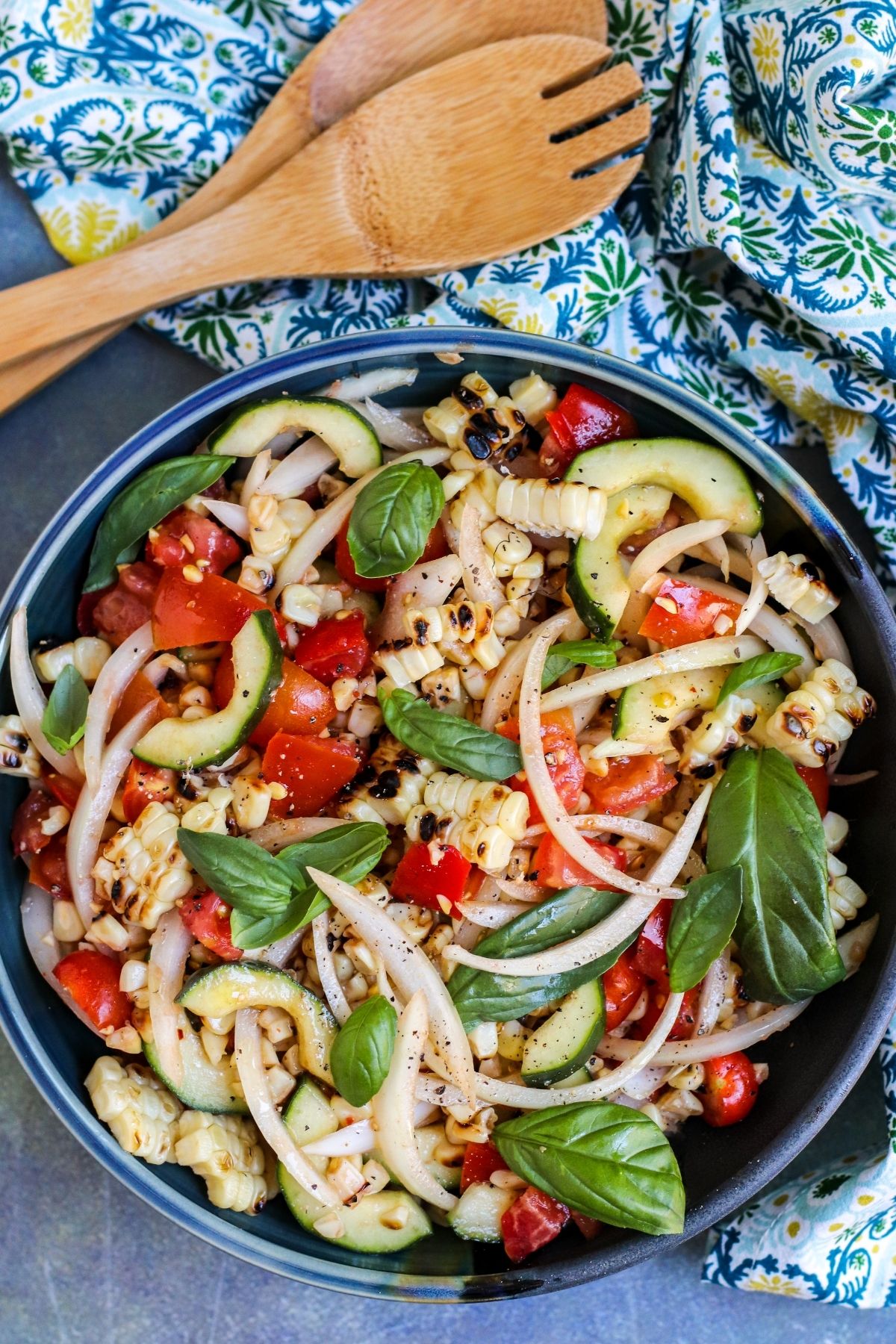 Nothing says summer like tomatoes, cucumbers and basil. Throw in some corn, whether you grill it on the cob or defrost it from the freezer, and you have a winning combination everyone is sure to enjoy.
Why you'll love this recipe
It's easy to prepare in 30 minutes or less without any unusual ingredients.
You can make it with either fresh or frozen corn.
The summer flavors go well with everything from veggie burgers to pasta.
Ingredients and substitutions
Corn: If fresh corn on the cob isn't available, you can use frozen corn instead. Substitute 2 ¼ cups of defrosted frozen corn for the 3 ears in this recipe. And even better, you can use the frozen grilled corn that Trader Joe's sells.
Tomatoes: Any size or shape will work.
Sweet onion: Look for Walla Walla, Vidalia, and Maui, if available, or substitute red onion.
Cucumber: Any variety will work.
Olive oil
Balsamic vinegar
Fresh basil: Substitute fresh parsley or cilantro if basil is unavailable.
Salt and pepper
For the complete list of ingredients with measurements plus recipe instructions, please see the recipe card at the bottom of this post.
How to grill corn
There are three basic methods you can use for grilling corn. I came across the detailed article The Food Lab: Three Ways to Grill Corn which details the different ways to grill corn with the positives and negatives of each.
In the husk: When I first starting making grilled corn, I would throw the entire husk on the grill and let it cook. While I loved how the corn turned out, I hated getting the blackened husk all over myself and my kitchen floor.
Wrapped in foil: Then I tried wrapping the shucked corn in aluminum foil. The corn turned out well, but it was a bit of a chore to check for doneness since I had to unwrap and rewrap the foil packet. Plus the corn didn't get the nice char I was looking for.
Directly on the grill: So then I decided to shuck the corn and throw it onto the grill. Perfection! The corn looked exactly how I wanted it with a nice smoky flavor. My backyard also smelled like popcorn, which I didn't mind at all.
Learn the 5 Secrets to
COOKING THE VEGAN MEDITERRANEAN DIET WAY
FREE mini-course delivered straight to your inbox
Serving suggestions
Storing
Leftover salad will last covered and refrigerated for up to 3 days. The basil may wilt, so you may want to replace it with fresh herbs before serving. I do not recommend freezing this dish.
FAQ
How do you remove corn kernels from the cob?
While there are many methods, including using two bowls or a bundt pan, I find the easiest method is to simply use a chef's knife and a cutting board. Lay the corn on its side horizontally and carefully run your knife down the ear to remove the kernels in sections. When that side is done, rotate the cob and repeat until all of the kernels are removed.
How do you cook corn on the cob?
The main ways for cooking corn on the cob are microwaving, boiling, steaming, oven roasting, pressure cooking (in an Instant Pot or other pressure cooker), and grilling. You can also eat corn raw straight off the cob, although many people prefer the flavor and texture of it cooked.
Which onions are the sweetest?
The most common sweet onions available in the United States are Walla Walla, Vidalia, and Maui. These varieties are grown in low-sulfur soil making them taste milder and sweeter than other types of onions.
How do you tame a strong onion?
If your onion has too strong of a taste, slice it and submerge the slices in a bowl of ice water for 20 to 30 minutes before preparing your recipe.
More summer salad recipes
Looking for more delicious seasonal salads? Try some of these vegan Mediterranean diet favorites:
And for even more recipes, join the Vegan Mediterranean Diet Recipes Facebook group for support, inspiration, and fun.
📋 Recipe
▢ 3 ears corn, grilled, kernels cut off the cob (See Notes)
▢ 3 cups tomatoes, roughly chopped (or halved or quartered if using cherry tomatoes)
▢ ½ sweet onion, (Maui, Walla Walla, or Vidalia) sliced (or substitute red onion)
▢ 1 cucumber, sliced lengthwise, seeds removed, and sliced into half moons
▢ 1 Tablespoon olive oil
▢ 1 Tablespoon balsamic vinegar
▢ salt and pepper, to taste
▢ fresh basil leaves, for garnish
▢ In a large salad bowl, combine the corn kernels, tomatoes, onion, and cucumber.
▢ Drizzle over the olive oil and balsamic vinegar.
▢ Toss well to combine.
▢ Add the salt and pepper, to taste, and garnish with the fresh basil leaves.
▢ Serve immediately, or refrigerate until ready to eat.
If you can't find fresh corn, you can substitute 2 ¼ cups of defrosted frozen corn for the 3 ears in this recipe.
To grill the corn, use one of the following methods:
Grill the corn on each side right in the husk. Remove the husk and silk once the cobs are cool enough to handle.
Brush shucked corn with a little olive oil and season to taste with salt and pepper. Wrap them in aluminum foil and grill on each side.
Brush shucked corn with a little olive oil and season to taste with salt and pepper. Place directly on the grill and grill on each side until lightly charred. This is my preferred method.
Leftover salad will last covered and refrigerated for up to 3 days.
Share your recipe photos by tagging @veggiessavetheday
Calories: 169kcal | Carbohydrates: 30g | Protein: 5g | Fat: 5g | Saturated Fat: 1g | Sodium: 12mg | Potassium: 630mg | Fiber: 5g | Sugar: 11g | Vitamin A: 1238IU | Vitamin C: 25mg | Calcium: 34mg | Iron: 1mg
Nutritional information is an estimation only.
Want to learn the 5 Secrets to Cooking the Vegan Mediterranean Diet Way? Join the the FREE 5-day mini course and get the secrets delivered to your inbox.
https://www.veggiessavetheday.com/grilled-corn-tomato-cucumber-salad-2/?utm_source=ConvertKit&utm_medium=email&utm_campaign=email_vegan_corn_salad