Daily Archives:
May 26, 2022
Shiv Sudhakar
Virginia now has its first presumed case of monkeypox, the state's Department of Health said today.
"Monkeypox is a very rare disease in the United States.  The patient is currently isolating and does not pose a risk to the public," said State Health Commissioner Dr. Colin M. Greene.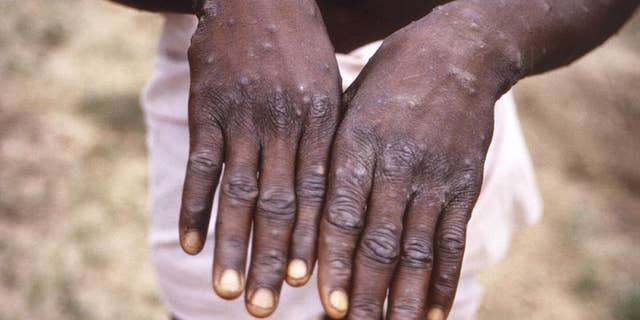 This 1997 image provided by the CDC during an investigation into an outbreak of monkeypox, which took place in the Democratic Republic of the Congo (DRC), formerly Zaire, and depicts the dorsal surfaces of the hands of a monkeypox case patient, who was displaying the appearance of the characteristic rash during its recuperative stage. (CDC via AP)
"Transmission requires close contact with someone with symptomatic monkeypox, and this virus has not shown the ability to spread rapidly in the general population. [Virginia Department of Health] is monitoring national and international trends and has notified medical providers in Virginia to watch for monkeypox cases and report them to their local health district as soon as possible."
The adult patient resides in the Northern region of Virginia with recent international travel to an African country where the disease is endemic, but she is not requiring hospitalization and is isolating at home.  
The health department is monitoring close contacts and no additional cases have been detected at this time as the state awaits confirmation of the test results at the Centers of Disease Control and Prevention (CDC).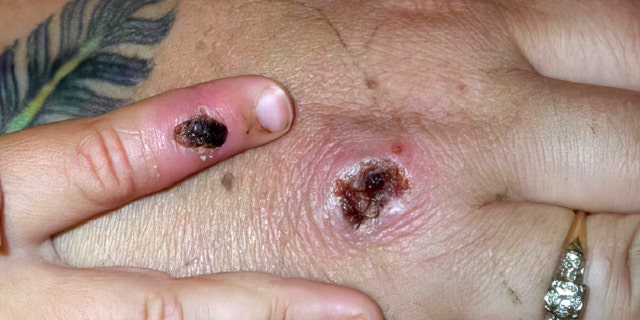 In these Centers for Disease Control and Prevention handout graphic, symptoms of one of the first known cases of the monkeypox virus are shown on a patient's hand June 5, 2003. The CDC said the viral disease monkeypox, thought to be spread by prairie dogs, has been detected in the Americas for the first time with about 20 cases reported in Wisconsin, Illinois, and Indiana. (Courtesy of CDC/Getty Images)
The agency recently issued a Level 2 travel alert to practice "enhanced precautions" when traveling, noting that cases have been reported in Europe, North America and Australia.
"Some cases [worldwide] were reported among men who have sex with men. Some cases were also reported in people who live in the same household as an infected person," the agency said.
MASSACHUSETTS CONFIRMS FIRST CASE OF MONKEYPOX IN THE UNITED STATES THIS YEAR
The Virginia case is among the nine monkeypox cases that have had samplessent to the CDC for additional confirmatory testing and genomic investigation, CDC Director Rochelle Walensky noted in a recent briefing.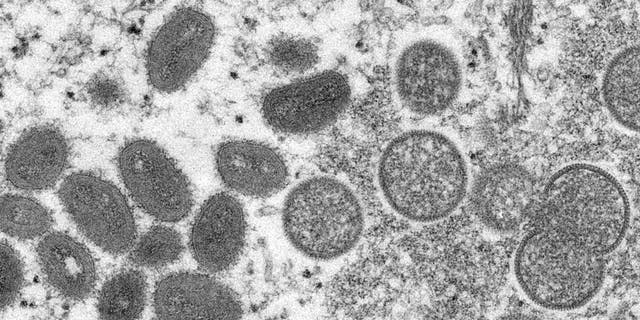 This 2003 electron microscope image made available by the Centers for Disease Control and Prevention shows mature, oval-shaped monkeypox virions, left, and spherical immature virions, right, obtained from a sample of human skin associated with the 2003 prairie dog outbreak. Monkeypox, a disease that rarely appears outside Africa, has been identified by European and American health authorities in recent days. (Cynthia S. Goldsmith, Russell Regner/CDC via AP)
She said they are working to see how each contracted the infection, but some, but not all, have traveled to regions where they are active monkeypox outbreaks.
Virginia is now the seventh state with presumed monkeypox infections, including California, Florida, Massachusetts, New York, Utah, and Washington.
"We need to presume that there is some community spread, but there is active contact tracing that is happening right now to understand whether and how these cases might have been in contact with each other or with others in other countries," Walensky said.
https://www.foxnews.com/health/virginia-first-presumed-monkeypox-case-report?intcmp=tw_fnc
83% of Americans dissatisfied with how things are going in the US, poll says
ALEC SCHEMMEL | The National Desk
FILE – President Joe Biden arrives at the White House, in Washington, from his Asian trip, Tuesday, May 24, 2022. The Congressional Budget Office released an economic outlook Wednesday saying that high inflation will persist into next year, likely causing the federal government to pay higher interest rates on its debt. (AP Photo/Manuel Balce Ceneta, File)
WASHINGTON (TND) — A whopping 83% of Americans are dissatisfied with the current path the United States is on, according to new Gallup polling.
That means the amount of those satisfied, just 16%, is 20 points lower than Americans' satisfaction four months after President Joe Biden took office and a six-point drop since last month, Gallup's survey data shows.
Americans' dissatisfaction coincides with Biden's low approval ratings.
Gallup puts Biden's approval rating at 41%, but according to a Reuters-Ipsos poll released Tuesday Biden's approval rating is at 36%.
Biden's 36% approval rating from Reuters-Ipsos is his lowest to date in that particular poll.
Last month, a Quinnipiac University poll showed Biden's approval rating at 33%, also an all-time low in that poll.
Read more: "Biden poll numbers hit rock-bottom, sees very low support among key demographics"
Besides Biden's actions on the Russia-Ukraine crisis, the president has been under immense scrutiny for growing inflation and an out-of-control southern border.
A FiveThirtyEight-Ipsos poll found that 52% of Americans think inflation is the most important issue facing the country right now.
Americans primarily blame Biden and the war in Ukraine for the U.S.'s high inflation, which as of last month sits near a 41-year high of 8.5%, according to the Bureau of Labor Statistics.
A Morning Consult-Politico poll indicated 40% of Americans think Biden's policies are "very responsible" for the country's high inflation. Sixty-one percent believe Biden is at least "somewhat responsible" for inflation.
The Congressional Budget Office (CBO), a research arm of the federal government, predicts the nation's deficit will total $1 trillion in 2022 and nearly $16 trillion over subsequent decades under the current economic policy.
The nation's debt to GDP ratio is expected to be strong in 2023. However, the CBO says the current reprieve could be short lived, projecting the nation's debt to GDP ratio will surge to record highs by 2032.
The combination of expiring COVID relief and massive inflation, along with the economic recovery, have helped provide a fiscal reprieve. But trillion-dollar deficits are here to stay, and $2 trillion deficits will arrive by 2031. Meanwhile, debt is slated to reach a record 110 percent of GDP within a decade and could rise even further if lawmakers extend various expiring policies," according to the CBO's economic analysis.
Rather than declare victory and abandon deficit-reduction efforts, policymakers should work together to truly bring our deficit and debt under control," the analysis continues. "It's time to put words into action and enact a fiscal plan that pays for new initiatives, lowers health care costs, raises revenue, secures our major trust funds, cuts wasteful spending, stomps out inflation, and promotes strong economic growth.
The crisis at the southern border has also been a major point of criticism for Biden and his administration.
Gallup polling from March, before Biden announced he would be terminating the Title 42 expulsion policy, showed Americans' concerns over illegal immigration is near a two-decade high. Forty-one percent reported worrying a great deal about the issue, with another 19% saying they are worried a fair amount.
Texas communities, like Eagle Pass, are bearing the burden of Biden's open border policies," Texas Governor Greg Abbott said this week. "The Lone Star State will not waiver in our efforts to secure the border. We're deploying all resources necessary to prevent the flow of drugs, smugglers, & criminals coming into Texas.
https://local21news.com/news/nation-world/83-of-americans-dissatisfied-with-how-things-are-going-in-the-us-poll-says-inflation-ukraine-border-mexico-president-joe-biden