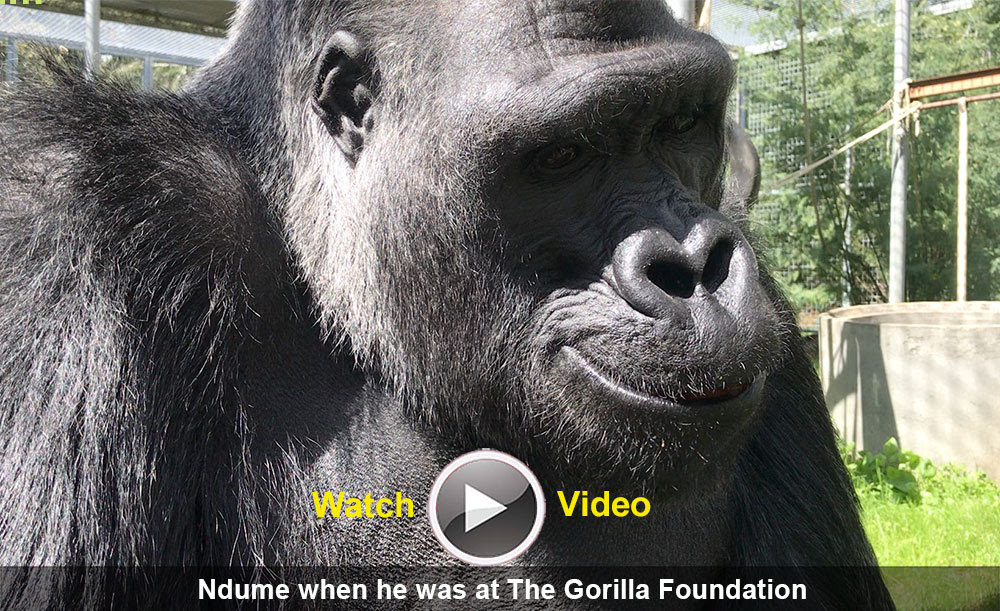 Today (Oct. 10, 2021) gorilla Ndume turns 40 and we are sending him birthday wishes and love. We are happy to report that recently he is forming close bonds with females Chewie and Mara in his family group at the Cincinnati Zoo. For us, this is a big bright spot in the many changes he faced by being moved from The Gorilla Foundation sanctuary to a zoo. 
He has been deemed to be in good health by the team there which is great news to all of us who cared for him for close to 30 years.
We know he is well-loved by his caregivers at the Cincinnati Zoo, and we miss seeing, interacting and communicating with him every day.
We wish there could have been a way to create a natural family group for him here at the sanctuary with his human friends, familiar surroundings and greater autonomy too, but that proved impossible to arrange. He continues to receive excellent care, and we get to visit him twice per year to let him know we love and remember him.
Please enjoy the above tribute video of Ndume on his milestone birthday and join us in sending him some birthday love.
Thank you!
Penny Patterson, Ph.D.
President and Director of Research
The Gorilla Foundation / Koko.org
The Gorilla Foundation
P.O. Box 620530 Woodside, CA 94062
Phone: 1-800-ME-GO-APE Email: info@koko.org
Nonprofit 501c3 Federal Tax ID: 94-238-6151
© The Gorilla Foundation / Koko.orgUnSubscribe Contact UsView in Browser