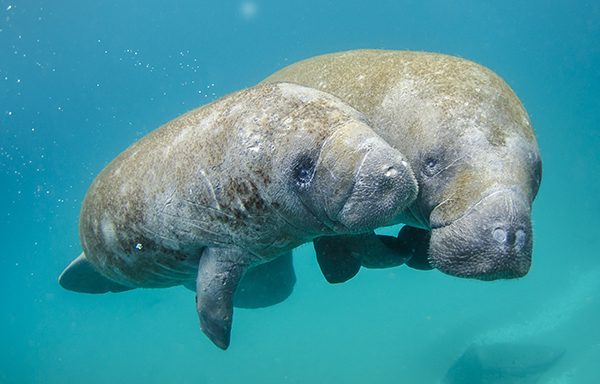 Photo Credit: Mother Manatee and Calf (c) Sam Farkas/NOAA
Over 670 manatee deaths has shocked scientists and wildlife lovers alike – we must act immediately to save Florida's state marine mammal!
This has been one of the deadliest winters ever recorded for threatened manatees. Pollution is destroying the seagrass they depend on for survival, causing hundreds of manatees to turn up dead across the central and south Atlantic coast of Florida, many with signs of starvation.
This crisis needs an immediate and powerful response. We're calling on the Fish and Wildlife Service (FWS) to protect manatees and their habitat to save manatees right now and to prevent similar crises from happening in the future.
Urge the FWS to protect and restore manatee habitat – click here to add your signature!
Message
Dear U.S. Fish and Wildlife Service: As a member of Defenders of Wildlife and an advocate for imperiled species, I'm asking the U.S. Fish and Wildlife Service (FWS) to prioritize safeguarding and securing manatee habitat to prevent further unprecedented loss of manatees. The past few months have been some of the deadliest on record for manatees. In just three months, over 670 manatees have died, with many showing signs of starvation as the seagrass habitats they depend on for survival have disappeared, leaving them with nothing to eat. I urge you to work with the state of Florida to address excessive runoff from various sources, including agricultural,residential and industrial uses, that is polluting our waterways and leading to widespread manatee deaths. Runoff into our precious waterways is fueling algal blooms that have shaded out and killed tens of thousands of acres of seagrasses. Sediment washing into the water from agriculture and land development can also damage seagrass beds by smothering the seagrass and blocking sunlight. Waterbodies around the state, including Indian River Lagoon, the St. Lucie River estuary, Biscayne Bay, Florida Bay, Charlotte Harbor and Tampa Bay, are all experiencing devastating impacts from pollution generated by agriculture, development and industry. In addition to comprising a primary food source for manatees, seagrass meadows are one of the most productive ecosystems in Florida. They provide food and shelter to a biologically diverse community of species, from seahorses and commercially important fish, to sea turtles, marine mammals, and birds. The greatest long-term threat to the manatee is lack of warm-water habitat that they need to survive. Coastal development continues to degrade natural habitat, like rivers and springs. Manatees become susceptible to cold stress, which is often lethal, at water temperatures below ~68F. Due to habitat loss, more than 60% of the manatee population depends on warm-water outfalls at electric power plants to survive cold winter days — an unsustainable situation. Restoring natural warm water winter habitat, such as the Great Florida Riverway, is essential to ensuring the long-term recovery of the species. FWS must coordinate with Florida Power & Light to convene a meeting that focuses on establishing and securing regional networks of natural warm water where manatees can take refuge in cold weather that have healthy, adequate food sources nearby. As the number of manatee deaths continues to rise, FWS must ensure that all protections for manatees remain in place and are expanded as necessary. I'm asking you to please take urgent steps to protect manatees and their habitat before the future of this species is once again in jeopardy. Sincerely,
Defenders of Wildlife leads the pack when it comes to protecting wild animals and plants in their natural communities © 2021 Defenders of Wildlife
https://act.defenders.org/page/28132/action/1?supporter.appealCode=3WDW2100ZEXX1&en_og_source=FY21_Social_Action&utm_source=twitter&utm_medium=social&utm_campaign=action-manateeUSFWS-040221