Nwo Report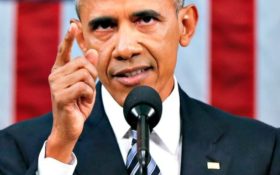 Source: Horn News
President-elect Donald Trump represents the American people's bitter rejection of President Barack Obama's policies — and Obama despises Trump so much for that, he's willing to jeopardize American safety.
Just how far the president is willing to go to make a point is shocking.
The Obama administration announced Thursday it has officially destroyed the decades-old U.S. registration system for Muslim immigrants — and critics say the move has made America more vulnerable to terrorist attacks.
If Trump wants to introduce an expanded version of the program, which was put into place after the Sep. 11 attacks and used for years by the last two presidents, his administration will be forced to start from scratch.
The post-9/11 registration program for immigrant men arriving mainly from the Islamic world was created under former President George W. Bush and later used by Obama… before he stopped American security forces from…
View original post 382 more words